I really want to continue practicing with my hand lettering. So I have been playing around with an idea I've had for a while. Hand Lettering "Trick or Treat" making the "T"s  witches hats. Not sure if it came out exactly as I had expected.
I started on paper and transferred it to a 6 x 6" canvas. Of course going from black on white to white on black I lost some of the detail in my painting. The spider on the top T became a hand in the painted version. LOL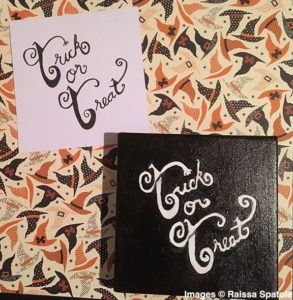 I think the next version I do, I will make the words a LOT larger!
What do you think? I'd love to hear from you!
Head over to my other site RaissaStamps and sign up to win a Stampin' Up! Spooky Cat Punch!
Until next time!
~Raissa